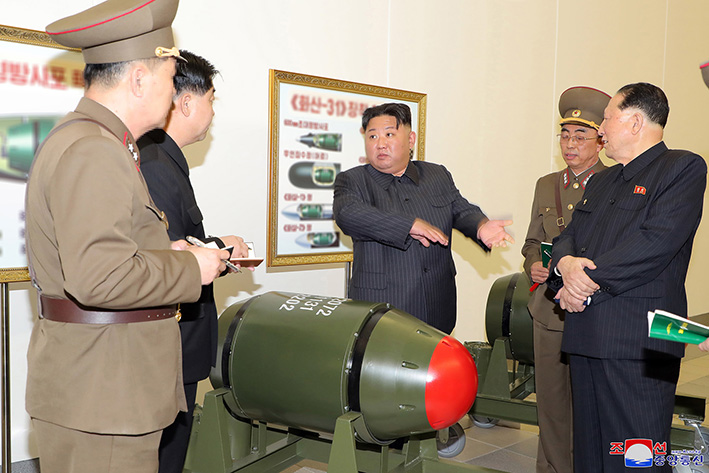 Kim Jong Un, general secretary of the Workers' Party of Korea and president of the State Affairs of the Democratic People's Republic of Korea, guided the work for mounting nuclear warheads on ballistic missiles on March 27.
Present there were Hong Sung Mu, first deputy department director of the Central Committee of the WPK, other officials of the Department of the Munitions Industry of the Party Central Committee and officials of the Nuclear Weapons Institute and the General Missile Bureau.
The DPRK Nuclear Weapons Institute reported to Kim Jong Un on recent years' work and production for bolstering up the nuclear force of the DPRK both in quality and quantity in accordance with the orientation of developing nuclear weapons and the strategic policy set forth at the Eighth Congress of the WPK and the Sixth Plenary Meeting of the Eighth Central Committee of the WPK.
He acquainted himself in detail with the means for applying nuclear weapons, technical specifications and features of structural operation of new tactical nuclear weapons according to the purpose of the operation and targets, interchangeability with different weapons systems, and others. He also learned about the work of putting into an IT basis the state nuclear weapon combined management system "Haekpangashoe" whose scientific accuracy, reliability and security have been strictly verified in the recent combined tactical drill simulating a nuclear counterattack.
And he examined the plan and written orders for nuclear counterattack operation.